Achieving Better Business Results Through Coaching Skills (2-Day Coaching Clinic)
August 2, 2018
–
August 3, 2018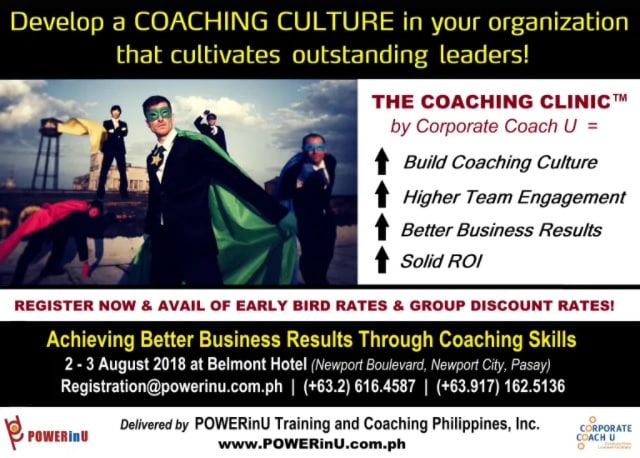 Specifically recommended for Mid- to High-level People Leaders and Managers, this is a 2-day leadership program, designed to use coaching techniques in their work relationships, and thus, gain the advantages of bringing a coach approach to managing people.
To secure a place, click this link: Coaching Clinic – Registration Page
WHAT COACHING CLINIC PARTICIPANTS SAY ABOUT THE PROGRAM
What will successful application of the Coaching Clinic learnings and skills look like?
"More projects will be completed on time and team will be more engaged and feel empowered.  Team will be reporting results and will not be asking what to do." 
"A level-up'd trust with each member of the group" 
"KPIs are met. Better aligned to results – both managers and staff"
"More engagement with direct reports…More sense of accountability from team members."
"Success will be when my coachees go beyond our mutually agreed actions…It will mean they are motivated to be better versions of themselves."
"Able to revive / build a coaching culture in my new organization. Have less threatening work environment and higher engagement. Have managers' support and involvement in developing people." 
Over-all, how was the program and/or your experience?
"The course allowed me to understand better the value of coaching. The pacing, materials, exercises and the course itself are all well prepared. The facilitators are well-equipped and very knowledgeable on the course content." 
"The course content is great as well as the materials! The trainers are well very accommodating and willing to share." 
"Good facilitators, very open/approachable, easy to talk and relate with. Pacing was just right and matched my learning speed.  Fun exercises." 
"I find it useful and refreshing. It provides a structured approach on how to conduct coaching through numerous exercises.  The venue is conducive to learning." 
"I really enjoyed the training…It's great!!!😊 Content is easy to understand, very relevant and interesting. I like the materials – world class! Exercises allowed us to practice and get to know and learn from each other." 
"The facilitators are subject matter experts. The exercises/practices help us appreciate the lessons ."