Building a Digitally Proficient Talent Bench (FREE WEBINAR!)
July 17, 2019 @ 7:30 PM

-

8:30 PM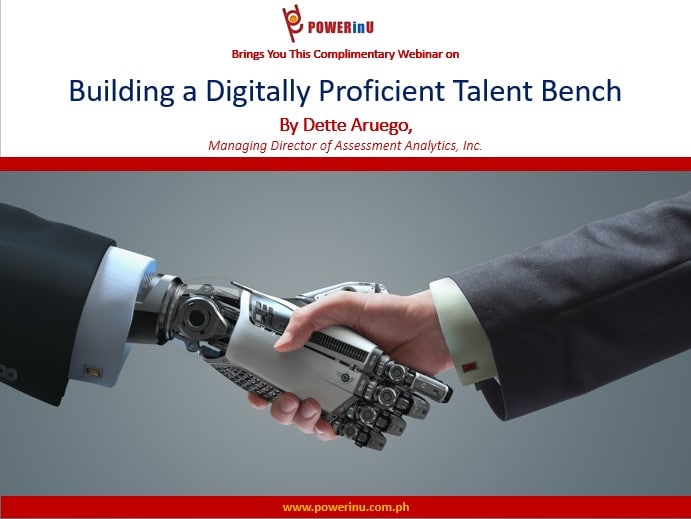 BUILDING A DIGITALLY PROFICIENT TALENT BENCH
by Dette Aruego
Date:  July 17, 2019
Time:   07:30 pm – 08:30 pm (Philippine Time)
Digitalization has changed, and is continuing to change, the way we work. We see transformation happening everywhere, with automation reshaping organizations and even entire industries.  More and more HR leaders are concerned with the impact digitalization will have on current and future roles.
In this webinar, we will look into:
The characteristics of a high digital environment
The profile of digital talent
The profile of digital leaders
Tips in building a digitally proficient talent bench
About the Speaker
DETTE ARUEGO
Dette is currently the Managing Director of Assessment Analytics, Inc. (AAI).  Her more than 20 years of work experience includes leadership positions in other organizations, as well as managing her own company. Her background in company management is coupled with her extensive experience in operations and sales and marketing with some of the largest banking institutions in the country.
Dette has been actively involved in AAI's competency-based projects with various multi-national and local corporations. She was certified in the United Kingdom as an SHL Accredited Trainer. This qualifies her to conduct all SHL talent management training programs worldwide. Moreover, she has also been certified in Assessment and Development Center Design, Assessor Training, Competency Design and Job Analysis, Competency-Based Interviewing, 360-degree or Multi-Rater Feedback, and in Personality and Ability Assessment.  Dette has also been certified by the British Psychological Society as Test User of Occupational Ability and Personality Assessment.