POWERinU Training and Coaching Philippines, Inc., licensed by US-based Corporate Coach U, invite you to THE COACHING CLINIC®
ACHIEVING BETTER BUSINESS RESULTS THROUGH COACHING SKILLS
Specifically recommended for Mid- to High-level People Leaders and Managers, this is a 2-day leadership program, designed to use coaching techniques in their work relationships, and thus, gain the advantages of bringing a coach approach to managing people.
Learning Benefits
Corporate Coach U's The Coaching Clinic® provides a coaching toolkit of knowledge, techniques and practiced skills that managers and leaders can apply competently and confidently in their work situation to gain immediate benefits. Applying these skills spurs rapid development of individuals and teams, and fosters leadership potential.
Applying skills learned in The Coaching Clinic® has been shown to:
Promote innovation and accelerate results
Effectively develop and retain valuable organizational members
Improve organizational commitment and team effectiveness, and
Deepen commitment to personal, professional and organizational goals
Program Focus and Outline
Participants discover and experience how to inspire others to believe in their own success, sharpen their focus, and make radical shifts to achieve extraordinary results, all through state-of-the-art coaching techniques. The Coaching Clinic® equips managers and leaders to "show up" as coaches in their working relationships.
Participants also discover their personal coaching style using the Personal Coaching Styles Inventory (PCSI), which provides insights into how best to communicate with their team for rapid development.
Here's how the two-day program looks like
Day 1 – Being a Coach | The Coaching Conversation | Coaching Skills
Being a Coach
– A Model of Trust and Creating a Coaching Environment
– Personal Paradigm Shifts
The Five-Step Process of Coaching in the Workplace
– The Coaching Conversation Model
Coaching Skills
– Contextual Listening
– Discovery Questioning
Day 2- Coaching Skills (continued) | Personal Coaching Styles Inventory | Coaching in Organizations | Action Plan
Coaching Skills (cont')
– Messaging
– Acknowledging
Personal Coaching Styles Inventory (PCSI)
– Defining Your Personal Style & Recognizing The Styles of Others
Coaching in Organizations
– Creating a Powerful Definition of Coaching
– Coaching to Commitment
– Challenges to Coaching
Creating an Action Plan to Implement Coaching
– Follow-Up & Peer Coaching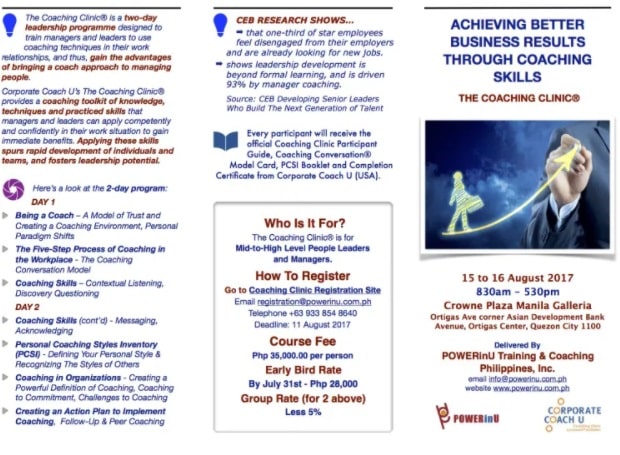 For more information: Visit Corporate Coach U's global website or Corporate Coach U's Australasia's website
---
Program Schedule: 15 to 16 August, 2017 | 8am to 5pm
Venue: Crowne Plaza Manila Galleria, Ortigas Ave corner Asian Development Bank Avenue,
Ortigas Center, Quezon City 1100
Participant's Fee: Php 35,000.00 per person
Every participant will receive the official Coaching Clinic Participant Guide, Coaching Conversation® Model Card, PCSI Booklet and Completion Certificate from Corporate Coach U (USA)
REGISTER & PAY By Due Date to avail of EARLY BIRD RATE!
By July 31 – Php 28,000
Avail of GROUP RATE: Less 5%
---
REGISTRATION IS CLOSED FOR THIS PROGRAM.
---
Payment is via bank deposit, with account details as follows:
Bank Name: Banco De Oro
Account Number: 4020189318
Account Name: POWERinU Training and Coaching Philippines, Inc.
Terms and Conditions:
Kindly email to

[email protected]

the bank deposit slip.
Registration will be confirmed via email upon our receipt of proof of payment.
Note that the basis of early bird rate is the date of deposit.
Organizer reserves the right to cancel the event if the minimum number of participants is not met.
For queries, contact: [email protected].