POWERinU's Facilitator-Led Online Learning Solutions
The "New Normal" posed a rapid need to transition the way things are done, and this includes changes in how we work, learn, live and play. In response to these changes, POWERinU provides ONLINE LEARNING SOLUTIONS that offer DYNAMISM, ENGAGEMENT and PRACTICALITY.
POWERinU's Online Classes are DYNAMIC
The classes offer an atmosphere of positivity and energy as everyone is encouraged to bring in something to the table. It is not just about learning something new after all. It's also about sharing to others good things or challenges that everyone can learn from in order to apply quicker the new concepts learned.
POWERinU's Online Classes are ENGAGING
Learners may not be face-to-face with their facilitators and peers, but valuable interaction is expected as learners go through the activities in the class. The training workshop also makes use of different modalities, and this is applied through the use of interactive tools like polls, surveys, group discussions in breakout rooms, and even role playing activities that reflect customized, actual or real-life scenarios, coupled with real-time feedback and coaching from highly qualified facilitators and coaches.
POWERinU's Online Classes are PRACTICAL
Simple but relevant examples and tools are used so learnings can be applied immediately after the class. Pre- and Post- workshop assignments and practical applications are given to ensure a truly customized and immersive experience for the learner.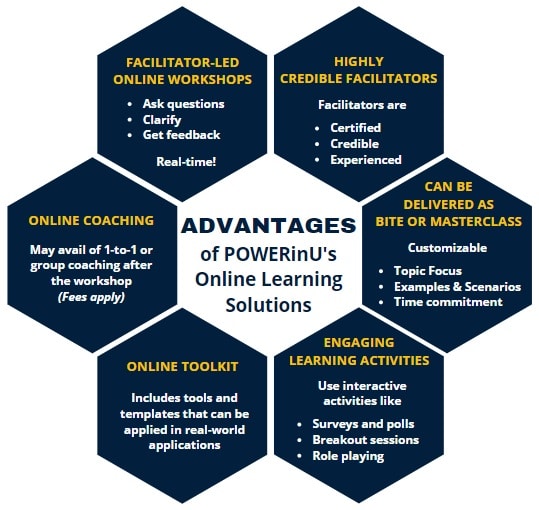 Advantages of POWERinU's Online Learning Solutions
FACILITATOR-LED ONLINE WORKSHOPS – You can ask or request for clarification from trainers real-time, and you can also be given on-the-spot constructive feedback by the trainer and by peers.
HIGHLY CREDIBLE FACILITATORS – Our trainers have been certified to deliver the trainings and they have valuable knowledge gained through exposure and experience.
CAN BE DELIVERED AS A BITE OR AS A MASTERCLASS – The learning program can be customized based on factors including the topic focus, the examples and scenarios to be used, and the time that can be committed to do the workshop.
ENGAGING LEARNING ACTIVITIES – The courses make use of interactive learning activities like surveys and polls, breakout sessions and role playing.
ONLINE TOOLKIT – Learners will get tools and templates they can use during the training session, and more importantly, after the training where real-life application occurs.
ONLINE COACHING – Learners have the option to undergo 1-to-1 or group coaching after the virtual workshop. Fees apply.
---
Online LEADERSHIP SOLUTIONS can be delivered as
MASTERCLASS

BITE

Workshop Hours

3 – 3.5 hours per session
1.5 – 2 hours per session

Number of Learners

15 persons
15 persons or more

Format

Facilitator-led Online Workshop
Webinar

Standard Platform


(Other platforms may be accommodated)
Zoom
Zoom

Customizable

YES
YES

Includes Online Toolkit


Tools to build and sustain knowledge and skills learned
(Complimentary with the Online Workshop)
YES
NO

Online Coaching


Option for bundled or separate
(Can be one-to-one or group coaching; Fees apply)
YES
YES
Programs are based on the USA-based ATD (Association for Talent Department) Workshop Series
---
WHAT ARE INCLUDED in Online Leadership Bites & Online Leadership Masterclass?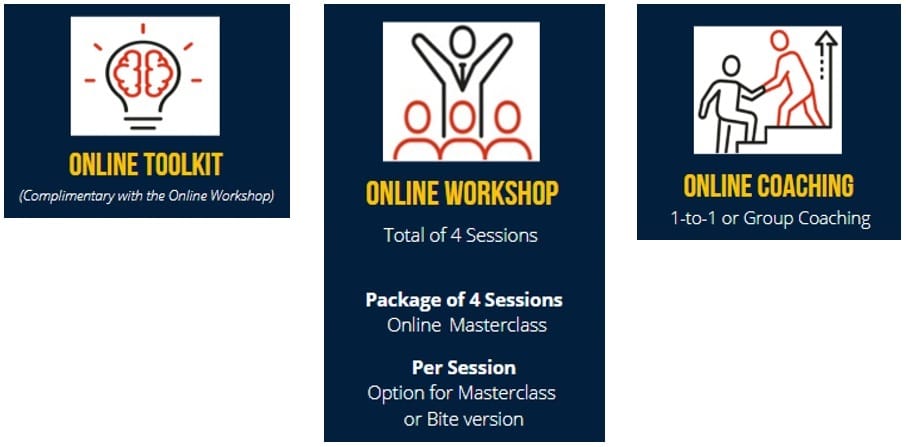 ONLINE TOOLKIT – Complimentary with the Online workshop.
ONLINE WORKSHOP – Has a total of 4 Sessions; Can be delivered as a Masterclass (package of 4 sessions) or in Bite version (per session).
ONLINE COACHING – One-to-one or Group Coaching
ONLINE LEARNING SOLUTIONS or PROGRAMS
LEADERSHIP PROGRAMS
Empowering your LEADERSHIP
PERSONAL DEVELOPMENT PROGRAMS
B.E.S.T. SALES TRAINING PROGRAM / STRATEGIC SOLUTION SELLING PROGRAMS
Foundational Consultative Selling
Advanced Strategic Selling
Negotiations Skills
---
Explore, discuss, experience our Online Learning Solutions!
Send us a message to inquire or email us at [email protected].