It was a privilege and pleasure for POWERinU and PASIA to collaborate on Day 1 of the recent PASIAWorld 2021, the annual and 2-day educational conference last November 18 and 19, 2021, themed "The Great Supply Chain Reset: Respond, Fortify & Innovate", referring to the call and challenge to business leaders in this new world order.
Through this event, PASIA managed to highlight how individuals and companies had conceived and implemented various strategies and innovative measures to survive, transform and succeed, despite severe challenges amidst these uncertain times – necessitating resilience and resourcefulness.
Replete with local and global distinguished speakers, presenters and thought leaders in their respective fields, coming from distinguished companies and organizations, the conference tackled shifts and evolving trends and innovative practices. The speakers shared their insights, including key decisions and strategies to not only recover, but even succeed in the now normal.
It was indeed a Win-Win partnership in action again, with PASIA, being a market leader in Supply Chain, Procurement and Logistics.
Day 1 of the conference was hosted by Tonet Rivera, Former Senior Vice President of Global Supply Chain Mead Johnson Nutrition and Jun Marfori, Director of POWERinU Training and Coaching Philippines, Inc.
The Opening Remarks was given by Charlie Villasenor, Chairman of the Board of PASIA and CEO of TransProcure, followed by the Keynote of Hon. Leni Robredo, Vice President of the Philippines.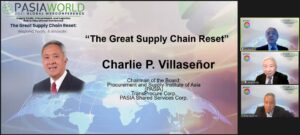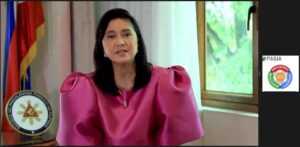 The program for day 1 of the conference was full with topics delivered by reputable experts.
Day 1
Integrated Underserved Business into a Post Covid Supply Chain by Ying McGuire, CEO and President of National Minority Supplier Development Council (U.S.A.)
How Procurement can Drive Growth by Alex Saric, Chief Marketing Officer of Ivalua
Digitalization of Procurement by Philip Cheng, Vice President of Service and General Procurement – Asia Pacific of IBM
Leveraging Supply Chain Management for Supply Chain Finance by Jinchang Lai, Principal Operations Officer of International Finance Corp.
Resiliency through an Autonomous Supply Chain by Manuel Baeuml, Supply Chain and Logistics Practice Lead of Amazon Web Services
Ensuring Workplace Safety: Using A.R.T. to Keep Employees Safe by Dr. Januario "Bill" Veloso Jr., Medical Specialist IV of Abbott
Transforming the Supply Chain through Cloud and 5G-Lot by Peter Maquera, Senior Vice President – Enterprise Group of Globe Telecom
New Trends in Supply Chain Training by Robin Jackson, CEO of ADR International
Driving End-to-End Supplier Collaboration, Risk and Performance Management by Louise Wong, Sales Director of Ivalua
The Value of Supply Chain finance by Cliff Entrekin, CEO of Convergence Capital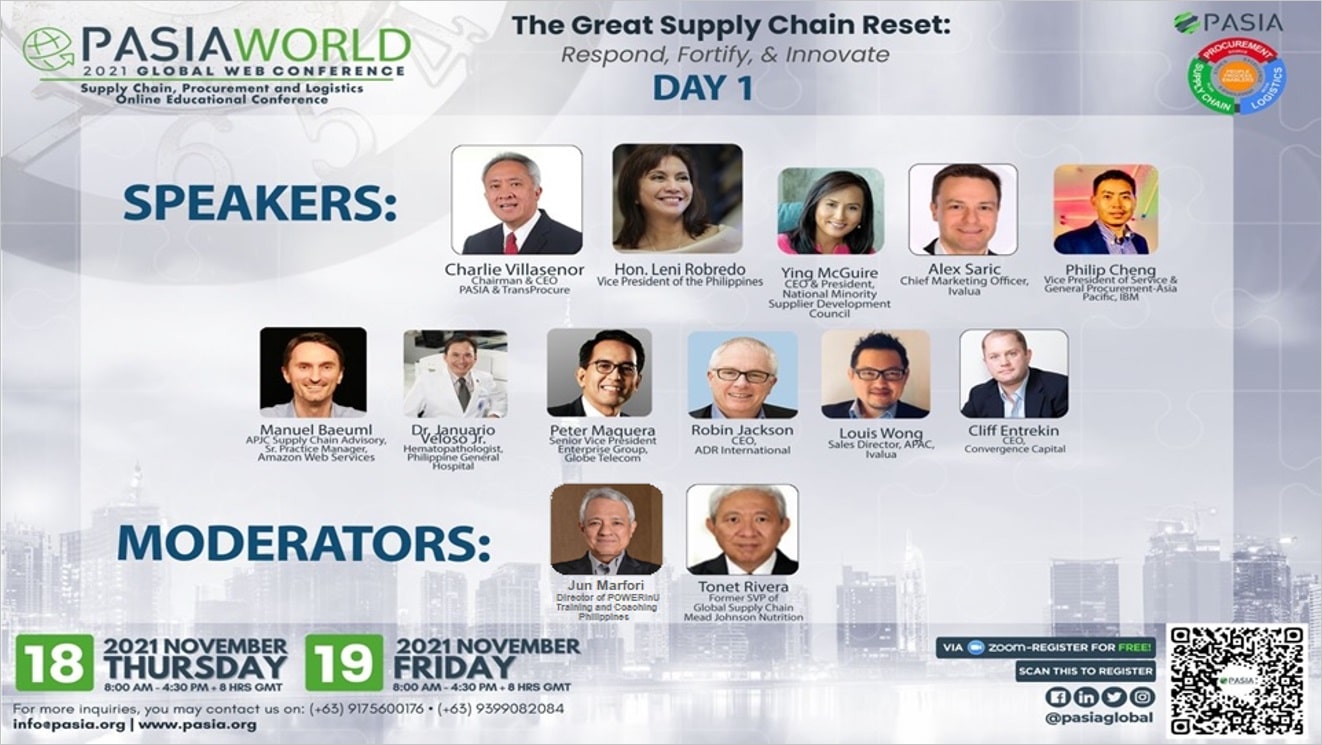 Meanwhile, day 2 of the conference was hosted by Edgar LaBenne and Walter Buczynski, both Senior Trainers of PASIA and as with Day 1, Charlie Villasenor, Chairman of the Board of PASIA welcomed everyone to the conference followed by a keynote by Lora Cecere, Founder of Supply Chain Insights on The Changing Role of Procurement Officer in Driving Supply Chain Excellence. The day was filled once again with valuable and relevant topics given by esteemed resource speakers.
Day 2
Procurement Key to Growth and Digital Transformation Impact by Joseph Martinez, Retired Managing Director and Global Chief Procurement Officer of Bank of New York Mellon
The Commission on Audit at a Glance by Cecilia Alonzo, State Auditor V & Acting Assistant Director of Commission on Audit and Aida Talavera, Director IV of Commission on Audit
Delivering Sustainable Procurement in a New Normal World by Aaron Leonard, Regional Sales Director, ANZ – APAC – Japan of EcoVadis
The Long and Winding Road to Recovery by Jonathan Ravelas, FVP – Chief Market Strategist of BDO Unionbank, Inc.
The Future of Work: The Supply Profession's Perspective by Beth Morgan, Founder and CEO of boom!
Updates on Airline Industry by Gilbert Santa Maria and Dexter C. Lee of PAL
Move with the Times with LBC by Richard Strollo of LBC
The Digital Transformation: No more Future Roadmap but an Immediate Need for Effective Warehouse Management by Snehal Pandit of SCM Profit
The New Trends in Procurement Process by Gabriel Rosales of B2B Negocios